Thomas Woodson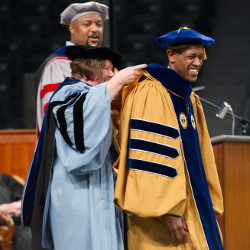 From Princeton to Georgia Tech's School of Public Policy
Alumnus Thomas Woodson, Ph.D. Class of 2014, earned his bachelor's degree in electrical engineering from Princeton University. The Houston, Texas native, now an assistant professor in the Department of Technology and Society at State University of New York-Stony Brook's School of Engineering, explains why he chose Georgia Tech's School of Public Policy.
Fielding Offers: "I was accepted for admission to other prominent graduate schools. One of the things I wanted from a graduate school was to look at how technology affects people and the societal implications of technology. I found there were only two schools that were doing this type of work and Georgia Tech was one of them. The opportunity to work with Professor Susan Cozzens, who was doing groundbreaking work in technology in developing countries, really drew me in to Georgia Tech's School of Public Policy's doctoral program."
On Campus: "There are renowned economists, sociologists and public policy scholars at this great science and technology institute. It was very exciting to have that type of intellectual diversity at the School of Public Policy. The faculty pushed me to do good work and good scholarship."
Research and Field Work: "I was very fortunate to be able to work with and travel with Professor Cozzens and my own Ph.D. colleagues on research projects, including trips to international locations. I went to South Africa for two weeks, met and interviewed other scientists there for research. I went to Finland for a graduate student conference. I also went to India for another conference on international development issues. Those experiences were one-of-a-kind and extremely memorable. "
On the Right Career Trajectory: "At SUNY-Stony Brook, I teach innovation policy to graduate students. I've taught the Ph.D. statistics class and next, I will be teaching a class to undergraduate students on science innovation policy. I'm also pursuing my research projects in nanotechnology and 3-D printers for development.
"At some point in my career, I'd like to work for the government or large organization. The School of Public Policy prepared me to analyze complex problems and trained me in a wide variety of tools that have made me successful as a researcher. They gave me the capability to do different research methods whether it's statistics, interview, or survey.
"The School of Public Policy turned out to be much more than I ever hoped for in a graduate school."
Tyler J. Kaplan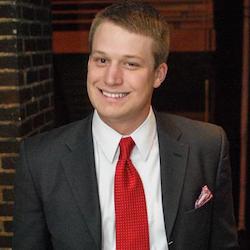 Legislative Director, JL Morgan Company
Tyler "TJ" Kaplan, a 2013 graduate of the Georgia Institute of Technology School of Public Policy, began his career in politics in the office of US Congressman Tom Price.  After learning the ins and outs of local politics and issues as they pertain to federal government, he made the transition to state politics by working as an aide to State Senator Butch Miller, a Floor Leader for Governor Nathan Deal.  After leaving Atlanta to work in Washington, DC with the Computing Research Association and study at the Institute on Business and Government Affairs at Georgetown University, TJ returned to his native Georgia to work for the JL Morgan Company as Legislative Director.  In his position at the JL Morgan Company, he serves as a contract lobbyist to a number of the nation's leading Fortune 500 companies. In addition to his lobbying duties, TJ coordinates a wide range of grassroots and grass tops campaigns across the state for clients seeking to represent their legitimate interests at all levels of government. 
Mike Donohue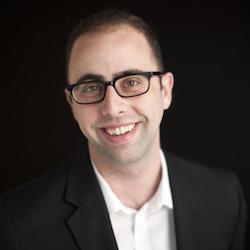 Mike Donohue is a Strategy Analyst with the New York Times, where he identifies growth opportunities for the newspaper and then helps teams across the organization take advantage of them. Before moving to New York, he lived in D.C. and served government and healthcare clients with McKinsey & Co., a management consulting firm. Mike graduated from Georgia Tech in 2012 with a degree in Public Policy and a certificate in European Union Studies. While at Tech, he was president of the Mock Trial team and held multiple roles at the Technique, including News Editor and Business Manager. Mike currently lives in Brooklyn, where he's made it his life mission to find the best coffee shops in the city and read a Sunday New York Times in each one.
Taylor S. Chapman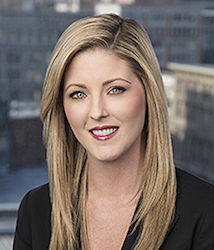 Taylor S. Chapman is a commercial litigation attorney in the Tysons Corner office of Venable LLP, an Am Law 100 law firm.  She represents clients in the areas of business litigation, including, breach of contract, fraud, tortious interference, misappropriation of trade secrets, and false advertising in state and federal courts.  She also defends corporations in employment law matters and litigates professional liability claims.  Ms. Chapman has handled all phases of litigation, including pre-litigation counseling, strategic advice, motion practice, trials and appeals.  She graduated from the Georgia Institute of Technology with a Bachelor of Science in Public Policy in 2008 and obtained her Juris Doctor from the George Mason University School of Law in 2011.   She is barred to practice law in Virginia and Washington, D.C.
Kate Brandus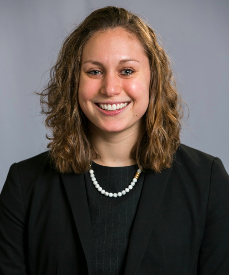 Kate Brandus is a Spring 2015 graduate of Georgia Institute of Technology with a Bachelor in Science in Public Policy with a concentration in Environmental and Energy Policy. While at Tech, she a student athlete on the Women's Swimming and Diving Team.
Kate works at Sol Systems on the SREC operations team, where she is responsible for handling inquiries for Sol Systems' 4,000+ network of solar energy system owners and installers. Sol Systems is a solar energy finance and investment firm that provides secure, sustainable investment opportunities to investor clients, and sophisticated project financing solutions to developers. Kate conducts Policy research and interacts with the various public utilities commissions to guide customers through the path toward SREC certification.
Previously, Ms. Brandus interned for the Atlanta Mayor's Office of Sustainability and the Executive Office of the President in DC, where she provided customer service to all EOP components, including the White House and the Council on Environmental Quality.
Ms. Brandus was also part of The Clean Energy Leadership Institute (CELI) Fall 2016 Fellowship class. CELI is a non-profit organization dedicated to empowering young professionals for careers in clean energy.
Derek Jett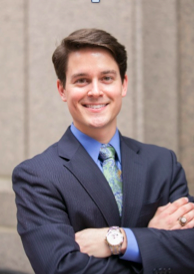 Derek joined Deloitte Consulting LLP after graduating from Georgia Tech's School of Public Policy in May 2014. He is aligned to Deloitte's Federal Practice and supports Federal agencies locally in Atlanta. He currently supports a subsidiary agency of the Department of Health and Human Services (HHS) and is supporting several teams targeting the Ebola outbreak abroad. Prior to joining Deloitte, Derek graduated with "Highest Honors" with a B.S. in Public Policy and a minor in Law, Science and Technology. In addition, he also spent a summer abroad at the University of Oxford studying computer science and engineering.
While at Georgia Tech, Derek obtained essential work experience with government leadership offices at the state (GLIP Program) and federal levels (United States Senator). 
Derek can be reached at djett@deloitte.com for any Georgia Tech student who has an interest in learning more about Deloitte and the lifestyle of a consultant.
Merry Hunter Hipp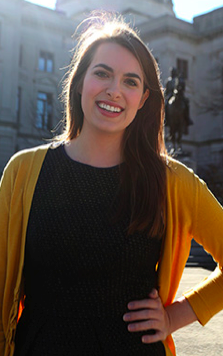 Since graduating with her B.S. in Public Policy in 2013, Merry Hunter has worked in consulting, served as the Deputy Director of Communications in the Office of Georgia Governor Nathan Deal, and is now Governor Deal's Education Policy Advisor. In this role, Merry Hunter specializes in the areas of early childhood education, K-12 education and higher education as she represents Deal's education policy agenda to legislators, state agencies and other stakeholders. Outside of work, she serves as the President of the Georgia Tech Young Alumni Council, and will be graduating with a master's degree in Human Communication and Social Influence from Georgia State University in August 2017.
"In college, I interned in the state Senate and in the Governor's Office. Now I can combine my love for education, my passion for the political process and my academic background in public policy." She gained hands-on experience in Senior Task Force. "We had a federal government client, and we were able to come up with policy and implementation strategies for an actual client. That was the most valuable experience I had as a student -something I could show off in interviews. Having that strong body of work in my resume and transcripts helped to show that public policy was a program to be reckoned with."
Kayla McKenzie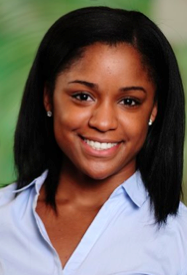 Kayla is a recent graduate of Georgia Tech, earning her degree in Public Policy in 2014. Upon graduation, Kayla accepted a position with Deloitte Consulting and is currently supporting the Division of Global HIV/AIDS (DGHA) at the Centers for Disease Control and Prevention (CDC). Through her role, she works with DGHA on their scientific clearance process to ensure their system enables and supports timely access to the best possible science.
Prior to Deloitte, she gained academic and work experience in policy, public health, and non-profit support. Kayla hopes to continue her career exploring her interests in public health, healthcare, and management.
Claire Howell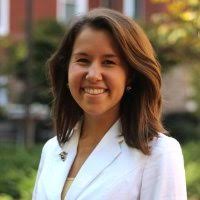 Claire is a Spring 2015 graduate of the School of Public Policy. Claire initially worked as a Planning & Operations Coordinator at Piedmont Healthcare. Her primary role was to drive programmatic development and performance improvement initiatives through application of project management techniques. This role coordinates activities between a wide variety of individuals, including but not limited to, physicians, advanced practitioners, nurses, operations, finance, IT, and human resources to meet project goals.
Claire moved to North Carolina in August 2016 to work for Duke University Health System as a Management Engineer. The Management Engineering role parallels her role at Piedmont in performance improvement work and is specific to the Musculoskeletal specialty across Duke while including more data analytics and computer coding. Since the move, she also serves at the Alumni Association's Georgia Tech Research Triangle Network president for the Raleigh-Durham area.
While at Tech, Claire was involved with GT Ambassadors, was a member of a sorority and was chosen as Ms. Georgia Tech.
Sahra Jabbehdari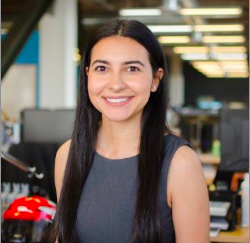 Sahra is a graduate of the BS/MS 5 year program in Georgia Tech's School of Public Policy. After graduating in 2015 with her graduate degree, Sahra joined MuleSoft, a software company based in San Francisco. She focused on growing the company's new business and finding opportunities in the commercial and federal space. Recently, she's moved into a global role within MuleSoft's Account Development organization. She now spends her time implementing processes, performing data analysis, and evaluating tools to improve the effectiveness of the nearly 100 person team. She is responsible for providing business critical insights using analytics, ensuring cross functional alignment of goals and execution, and helping the AD team drive strategic initiatives forward.
While at Tech, she interned at Invest Atlanta, performed researched for NBER and Dr. John P. Walsh, and spent two years at the Enterprise Innovation Institute's STIP program working with Dr. Jan Youtie. Sahra currently lives in Atlanta, GA and works in MuleSoft's Alpharetta office, visiting offices in San Francisco, London, and Sydney.
Gwen Hughes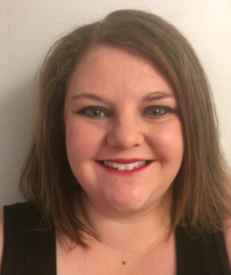 Gwen Hughes is a spring 2015 Georgia Institute of Technology graduate with a Bachelor in Science in Public Policy and a minor in Biology. She currently works in Washington, DC as a Senior Program Assistant at the National Academy of Medicine's Leadership Consortium for a Value and Science-Driven Health System. The Leadership Consortium brings together national leaders in health and health care to work cooperatively toward their common commitment to effective, innovative care that consistently adds value to patients and society. As a Senior Program Assistant, Gwen is responsible for helping facilitate meetings of Consortium members and providing support and research for written Consortium products.
While in college, she was actively engaged in mental health advocacy, playing a key role in several mental health reform initiatives and founding the Georgia Tech chapter of Active Minds, a student-led organization dedicated to fighting stigma against mental illness. She also was involved in the community service community and policy research, and worked at The Carter Center, President Jimmy Carter's philanthropic foundation, and at The Corporation for National and Community Service. After graduation, Gwen worked planning peer-to-peer medical education events before joining the Leadership Consortium.
Aaron Morgan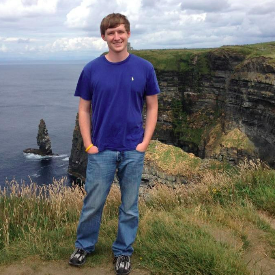 Aaron Morgan is a Spring 2014 graduate of Georgia Institute of Technology with a Bachelor is Science in Public Policy. Aaron is a Solutions Analyst for Cotiviti. In this role, he is responsible for valuing and marketing new service offerings for the company's many healthcare clients. Cotiviti is a leading healthcare analytics firm based out of Dunwoody, Georgia which specializes in identifying medical overpayments in the healthcare field for Commercial, Medicare, and Medicaid clients. Aaron works in the Solutions Management department to coordinate future policies in coordination with the Centers for Medicare and Medicaid Services.
Previously, Mr. Morgan interned in the Georgia Senate for Senators Fran Millar and Josh McKoon where he helped analyze policy implications of new legislation and communicated with constituents on behalf of the senators.