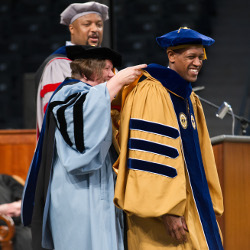 From Princeton to Georgia Tech's School of Public Policy
Alumnus Thomas Woodson, Ph.D. Class of 2014, earned his bachelor's degree in electrical engineering from Princeton University. The Houston, Texas native, now an assistant professor in the Department of Technology and Society at State University of New York-Stony Brook's School of Engineering, explains why he chose Georgia Tech's School of Public Policy.
Fielding Offers: "I was accepted for admission to other prominent graduate schools. One of the things I wanted from a graduate school was to look at how technology affects people and the societal implications of technology. I found there were only two schools that were doing this type of work and Georgia Tech was one of them. The opportunity to work with Professor Susan Cozzens, who was doing groundbreaking work in technology in developing countries, really drew me in to Georgia Tech's School of Public Policy's doctoral program."
On Campus: "There are renowned economists, sociologists and public policy scholars at this great science and technology institute. It was very exciting to have that type of intellectual diversity at the School of Public Policy. The faculty pushed me to do good work and good scholarship."
Research and Field Work: "I was very fortunate to be able to work with and travel with Professor Cozzens and my own Ph.D. colleagues on research projects, including trips to international locations. I went to South Africa for two weeks, met and interviewed other scientists there for research. I went to Finland for a graduate student conference. I also went to India for another conference on international development issues. Those experiences were one-of-a-kind and extremely memorable. "
On the Right Career Trajectory: "At SUNY-Stony Brook, I teach innovation policy to graduate students. I've taught the Ph.D. statistics class and next, I will be teaching a class to undergraduate students on science innovation policy. I'm also pursuing my research projects in nanotechnology and 3-D printers for development.
"At some point in my career, I'd like to work for the government or large organization. The School of Public Policy prepared me to analyze complex problems and trained me in a wide variety of tools that have made me successful as a researcher. They gave me the capability to do different research methods whether it's statistics, interview, or survey.
"The School of Public Policy turned out to be much more than I ever hoped for in a graduate school."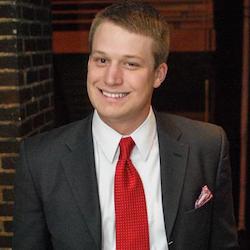 Legislative Director, JL Morgan Company
Tyler "TJ" Kaplan, a 2013 graduate of the Georgia Institute of Technology School of Public Policy, began his career in politics in the office of US Congressman Tom Price.  After learning the ins and outs of local politics and issues as they pertain to federal government, he made the transition to state politics by working as an aide to State Senator Butch Miller, a Floor Leader for Governor Nathan Deal.  After leaving Atlanta to work in Washington, DC with the Computing Research Association and study at the Institute on Business and Government Affairs at Georgetown University, TJ returned to his native Georgia to work for the JL Morgan Company as Legislative Director.  In his position at the JL Morgan Company, he serves as a contract lobbyist to a number of the nation's leading Fortune 500 companies. In addition to his lobbying duties, TJ coordinates a wide range of grassroots and grass tops campaigns across the state for clients seeking to represent their legitimate interests at all levels of government.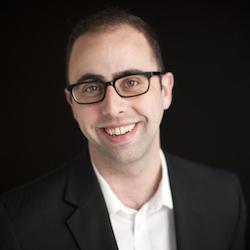 Mike Donohue is a Strategy Analyst with the New York Times, where he identifies growth opportunities for the newspaper and then helps teams across the organization take advantage of them. Before moving to New York, he lived in D.C. and served government and healthcare clients with McKinsey & Co., a management consulting firm. Mike graduated from Georgia Tech in 2012 with a degree in Public Policy and a certificate in European Union Studies. While at Tech, he was president of the Mock Trial team and held multiple roles at the Technique, including News Editor and Business Manager. Mike currently lives in Brooklyn, where he's made it his life mission to find the best coffee shops in the city and read a Sunday New York Times in each one.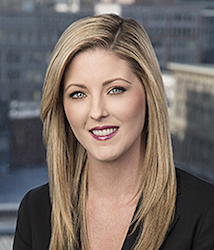 Taylor S. Chapman is a commercial litigation attorney in the Tysons Corner office of Venable LLP, an Am Law 100 law firm.  She represents clients in the areas of business litigation, including, breach of contract, fraud, tortious interference, misappropriation of trade secrets, and false advertising in state and federal courts.  She also defends corporations in employment law matters and litigates professional liability claims.  Ms. Chapman has handled all phases of litigation, including pre-litigation counseling, strategic advice, motion practice, trials and appeals.  She graduated from the Georgia Institute of Technology with a Bachelor of Science in Public Policy in 2008 and obtained her Juris Doctor from the George Mason University School of Law in 2011.   She is barred to practice law in Virginia and Washington, D.C.