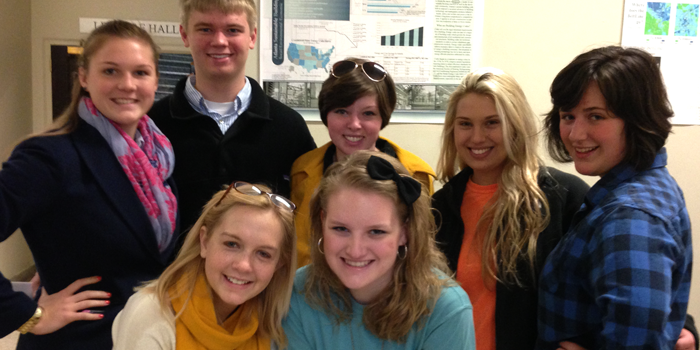 In addition to their coursework, policy students develop their professional skills through internships and undergraduate research experiences. For policy majors, at least one internship (for credit or for pay) is required. These internships require a faculty sponsor and must be approved in advance by the undergraduate Academic Program Manager, Alexis Fontaine (Alexis Fontaine). A chart of faculty research interests is available.
Many students participate in more than one internship during their four years. A very wide range of internships are available to B.S. Public Policy students, with government agencies, non profit organizations, and in the private sector. Many are part-time and paid; some are full-time for a semester or summer; others are unpaid but can be taken for course credit under the guidance of a faculty member. The School provides career services and resources, including information on dozens of local and national policy internship opportunities through School's internship database and postings. But many students have found excellent opportunities through their faculty mentors. Examples of recent internships include:
Georgia General Assembly
Former Chief Justice William Rehnquist
US Commission on Civil Rights
Consulate of Israel
GTRI Office of Policy Analysis and Research
Federal Deposit Insurance Corporation
US Environmental Protection Agency
Georgia Brain and Spinal Injury Trust Fund
Michelin Tire (environmental policy)
British Trade and Investment Office
Governor's Office of Consumer Affairs
Georgia Board of Regents
Law firms
Clean Air Campaign
Georgia Department of Economic Development
Georgia Tech offers two unique policy internships for students. For those interested in Georgia politics, legislation, and policies, Georgia Tech offers the Georgia Legislative Intern Program through its Office of Government & Community Relations. This office also provides a special policy internship for students interested in national politics, legislation, and policies, the Georgia Tech D.C. Internship.
Research Experiences
Undergraduate policy majors are also encouraged to engage in research. Many students propose independent research projects based on their personal or professional interests, while others work with professors on their research projects. Undergraduate students working with faculty have co-authored papers that have been published in academic journals and presented their collaborative or solo work at numerous conferences. In some cases, students can receive a stipend; other students prefer to receive academic credit. In recent years, undergraduate research topics have included:
Parents' decision-making on children's health issues
Young adults' attitudes toward religion and science
Coalition strategies in social movements
Analysis of the tristate (Georgia, Alabama, Florida) water conflict
Impacts of world summits on the information society
Patterns of homelessness in Atlanta
Modeling variability of exposures and asthma responses
Impacts of community information infrastructures on economic development