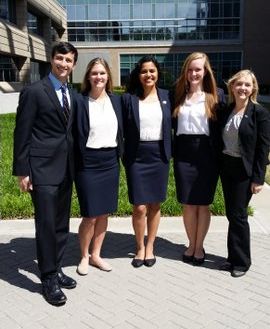 In their senior year, all students in the Bachelor of Science in Public Policy program enroll in a fall/spring capstone project sequence. In Policy Task Force, they apply the knowledge and skills from their core and elective courses, internships, and other experiences to address a current policy problem faced by a government agency, not-for-profit organization, or business firm. These organizations need real-time and expert analysis.
Under the guidance of two faculty facilitators and occasional client input, and with advice as needed from the public policy faculty and others at Georgia Tech and beyond, the students prepare a detailed analysis of the client's problem; formulate alternative solutions; analyze their benefits, costs, and effectiveness; identify the most useful and practical approach; and prepare a professional written report and team presentation to the client. Projects such as this occasionally are conducted in graduate policy programs. The undergraduate program at Georgia Tech is unique in its approach to preparing students for professional jobs and graduate study with a senior-level project that, in many cases, has an actual impact in the policy arena.
Call for 2022-2023 Projects
Professors Diana Hicks and You Na Lee are currently looking for clients with two-semester projects for our 2022-23 students. In 2021-22, the class was in-person and all client interaction was over Zoom; we can easily continue to do this in the coming year.
The class cohort will be 30 students, and we are recruiting five projects to be worked on by groups of six students.
Caveats and Requirements
There are a few things potential clients should know.
The project runs from mid-August until late April. The students need all of that time to complete the project and to be able to learn from it.
This is a learning experience for undergraduate students, which means you should expect undergraduate-level work. The instructor is there as a guide, not as a participant in the project. There is a possibility that the students will fail to produce a usable product. We will let the students (individually or as a group) fail if they do not produce adequate work. No one will step in to "save" the project. Thus, we counsel our potential clients not to propose operationally critical work.
Nevertheless, we ask that the proposed project be important enough that you are sufficiently committed to seeing it through and interacting with the students when necessary.
We expect clients to:

Attend sessions with the students at three times: at the beginning of the project, typically in late August/early September so that the students have an opportunity to hear directly from you about the project and to ask clarifying questions; in late November/early December to hear and give feedback on the project design (after this stage clients will not be allowed to change any core elements of the project); and at the beginning of April for the final project roll-out, where the students present results. Any or all of these meetings can be virtual.
Be available via email to the students to answer questions along the way.
Provide any data to be analyzed by mid-December.
Provide feedback to students on formal reports (December and April).
Have a designated point person for the students to contact.
Once the initial conversation occurs with the instructor(s) and the decision is made to move forward, we need from you a one- to two-page project description that provides the following: background on the project, why it is important to the organization, and what questions you need answering. We do not move forward on committing to any clients without this brief proposal. Typically, we will provide feedback on the submission, and will let you know whether we can accept your proposal. Determinations are made based on skillsets of students, the feasibility of the project (generally and within the course constraints), and the clarity of the project goals.
If you are interested in being one of our partners, please contact Diana Hicks (dhicks@gatech.edu) to begin the process. We would expect to have one or two Zoom meetings over a couple of weeks to work through scope conditions. Although we keep the process fairly informal, it is vital to set up appropriate expectations for both partners. There is a small fee for participating organizations.
Recent Projects
Atlanta Emerging Markets Inc.
"We had an amazing experience with the Georgia Tech Public Policy Task Force! The students were so impressive, not only with their subject matter expertise, but with the passion and enthusiasm they displayed when tackling our project. They clearly heard our pain points and delivered a professional-level report with concrete and realistic recommendations that we look forward to implementing in the future." — Atlanta Emerging Markets Inc.
Innovative programming ideas for Atlanta Emerging Markets, Inc. to support non-profits, social entrepreneurs, and high-impact businesses in Atlanta's underserved neighborhoods

What business and community development needs are unmet in low-income areas of Atlanta?

Interviews with small socially oriented businesses and non-profits in low income areas of the city

What best practices in the successful financing of nonprofits, social entrepreneurs, and high-impact businesses result in positive economic development outcomes in underserved neighborhoods?

Case study comparison of 8 programs around the country
Georgia Audubon
Bird safe building policy in Atlanta

What steps have policy entrepreneurs taken in other municipalities to pass bird-safe legislation, and how can their strategies inform Georgia Audubon's advocacy process?

Case study comparison of the process of passing bird safe building laws in 6 municipalities across the country
Piedmont Park Conservancy
What would it take to develop and gain support for a policy that would provide a sustainable funding model to support not only Piedmont Park, but all other public parks in the City of Atlanta?

Overview of park funding options, concluding no new options out there
What is the additional monetary value added to residential properties in the Midtown area of Atlanta, Georgia, due to proximity to Piedmont Park?

Hedonic pricing analysis of residential property in neighborhoods around Piedmont Park.
Structured, literature based comparison of 29 youth programs around the world
Piedmont Park Conservancy
How can a public park of almost 200 acres address increasing e-scooter traffic? What are the best practices and recommendations that are most appropriate for Piedmont Park, given the fact that the Beltline comes through the Park?

How have comparable organizations regulated e-scooters, and why were policies chosen over their alternatives?

Interview based case studies of Georgia Tech and the Beltline

What policies do Piedmont Park users, including e-scooter riders, cyclists, and pedestrians, prefer?

Interviews/survey of park users
Invest Atlanta
How can one attract out-of-area scale-up companies to choose Atlanta?

Structured comparison of tools used by thirteen economic development authorities in the United States

Case study based on documents and interviews

Needs assessment of local technology firms.

Qualtrics survey of start-ups and scale-ups in Atlanta and interviews with a selection of our survey respondents.
Northwest Georgia High Demand Career Initiative
As part of the HDCI grant, the region is working to launch a high demand career pathway website portal for students, educators, and employers in the region. Have sites like this helped students navigate the pipeline to reach a high demand career in their field of interest?

How effective are career websites in overcoming information asymmetries and matching employers and employees?

Case study of seven websites. Websites features were compared and their managers interviewed.
Atlanta Mayor's Office of Resilience
How can Atlanta be a model for supporting and sustaining farmers' markets and farm stands Citywide?
How can the City of Atlanta develop a model policy to ensure the controlled environment agriculture industry is successful in the City?
Task Force 2016
Assessing the Impact of the Affordable Care Act on Intimate Partner Violence Prevention
Namrata Kolla, Lauren Renaud, Jessica Richardson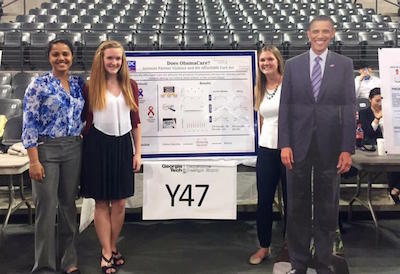 More than one in three women in the U.S. have been victims of Intimate Partner Violence (IPV), a type of violent crime which has lasting physical, psychological, and financial implications for victims (Black et al., 2011). The Affordable Care Act (ACA) includes provisions that aim to increase patient access to IPV preventive services, but its impact on the uptake of IPV prevention by healthcare providers has yet to be assessed. This study addresses this issue by exploring the question: How has the Affordable Care Act (ACA) affected the uptake of preventive services for intimate partner violence among non-elderly adult women in the United States?
This study investigates the impact of the ACA on IPV prevention by triangulating three sources of quantitative data related to IPV screenings: (1) insurance billing frequency, (2) online searches, and (3) physician training. Each of these metrics is then compared to two other preventive health screenings (HIV and suicide risk). HIV screening is similar to IPV screening in that both are recommended by the U.S. Preventive Services Task Force (USPSTF) and are therefore required to be covered by insurance without cost-sharing. Suicide risk screening, however, is not required to be covered by qualifying insurance plans, as the USPSTF gave the screening a rating of "insufficient." We used a difference-indifferences test, comparing IPV screening with HIV and suicide risk screening, to distinguish the ACA's impact on IPV screening.
The results of the analysis are initially mixed. Univariate and regression analysis of the insurance billing frequency and physician training data suggest that the ACA did not have a positive impact on the provision of IPV screenings while the same analyses of online search volumes suggest that the ACA may have been effective. Further analysis through difference-in-differences tests comparing IPV with HIV and suicide, respectively, confirm that the ACA has not been effective at impacting the provision of IPV prevention services. However, the timeframe for analysis has been short. In several years, the same study may lead to different results if additional parameters and datasets are included.
Improving Dissemination of the Centers for Disease Control and Prevention's 2016 Report to Congress on the Management of Traumatic Brain Injury in Children
Laura Margaret Burbach and Jared Moro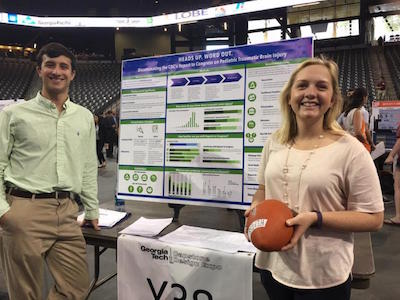 The Traumatic Brain Injury Act of 2014 ordered the Centers for Disease Control and Prevention (CDC) to submit a Report to Congress by the end of 2016 on the management of traumatic brain injury (TBI) in children. In preparation for the Report's release in November of 2016, the CDC wants to develop a dissemination strategy to heighten their Report's impact among stakeholders.
A review of the existing literature on TBI, Reports to Congress, dissemination, and communication channels reveals that the uptake of health information relies on an individual's underlying knowledge of the information, the format in which the information is presented, and the communication channel used for distribution. Furthermore, previous studies on the dissemination of health information indicate that certain common communication channels do not reach all targeted groups equally.
This study examines seven stakeholders with an interest in the 2016 Report's recommendations. Six of these groups – healthcare providers, educators, policymakers, researchers, caregivers, and patients – are considered active stakeholders because the CDC has engaged them and believes that the 2016 Report is relevant to their work. The seventh group – made of members of the general public – is considered a latent stakeholder group because the CDC has not targeted them, but members of this stakeholder group may become part of another group.
A survey was conducted to assess how each stakeholder group differed with respect to three variables: knowledge of TBI, perception of Reports to Congress, and preferred communication channels. This survey was emailed to TBI stakeholders who might use the Report in their work because of an existing knowledge of and work with TBI. These stakeholders were identified as members of the six active stakeholder groups and include members of TBI organizations such as the Brain Injury Association of Georgia and the National Collaborative on Children's Brain Injury. It was also posted on an online polling platform, Amazon's Mechanical Turk (M-Turk), to reach additional active stakeholders and members of the general public.
Based on analysis of the survey data, the seven stakeholder groups were sorted into two categories based on their occupation: TBI professionals and non-TBI professionals. TBI professional stakeholders include researchers, healthcare providers, educators, and policymakers, and are more likely than non-TBI professionals to believe that knowing about TBI is relevant to their work, to find Reports to Congress useful, and to look for health information in journals and professional magazines. Non-TBI professional stakeholders include patients, caregivers, and the general public. Although patients and caregivers have more knowledge of TBI than the general public, these three groups use the same communication channels for health information, including online searches, conversations with their doctors, and social and news media.
These results indicate that the information in the 2016 Report should be differently disseminated to reach each of the seven stakeholder groups. For TBI professional stakeholders, the CDC should publish the information from the Report on their website and in professional magazines, policy summaries, and academic journals. To target non-TBI professional stakeholders, the CDC should promote their findings that directly relate to caregivers, patients, and the general public on their website and on social media platforms, particularly Facebook.
Task Force 2015
Public Policy seniors in Task Force 2015 are working for the Centers for Disease Control and Prevention, America's public health agency.  While our clients are rotating in and out of Africa working to get the Ebola epidemic under control, SPP undergraduate students are focused on domestic issues of interest to the CDC - healthy homes and reduction of salmonella infections caused by contaminated chicken. One team of students is analyzing the history of changes to building codes to identify factors associated with successful building code changes so they can advise the CDC how to protect lower income families from dangers such as mold, pests, and radon by strengthening regulations and guidelines to make homes safer. Another group is undertaking a cost benefit analysis of adding probiotics and essential oils to poultry feed to provide the CDC with the tools needed to convince industry to remove antibiotics from chicken feed and substitute alternatives that have been proven effective without creating antibiotic resistant salmonella strains.  The third group is analyzing efforts for health education for minority communities to identify strategies that CDC can use to enhance the effectiveness of its educational materials on safe handling of chicken in home kitchens in minority households.
The 2015 Capstone Design Expo winners of the Public Policy Award are Brittany Dodson, Sam Lancaster, Jason Lupuloff, and Aaron Peek. These students partnered with the CDC for Farmaceuticals to identify what percent of poultry feed supplemented with probiotics and essential oils is necessary to reduce salmonella incidence in humans, to determine the necessary poultry market penetration for this new approach to have an impact on public health, and to calculate the economic impact on the introudction of antimicrobials on society and industry.
Task Force 2014
In 2014 Public Policy participated in the Georgia Tech's Capstone Design Expo, which featured more than 900 students and 170 teams from eight schools and three colleges tackling real-world problems.  The annual Expo showcases projects from the undergraduate senior design courses in which students work together to design products or tackle real-world problems, sometimes at the behest of sponsors.
More than 5,000 visitors roamed McCamish Pavilion checking out projects that ranged from life-saving medical devices to tools to make life easier. Independent judges assessed the projects and awarded a cash prize to the best project from each School.  The Public Policy prize was won by team UrbanAgSwag who looked at the urban agriculture initiatives in other cities to help the Atlanta Local Food Initiative boost urban agriculture, taking into account zoning ordinances and other factors.  Additional notable projects included: