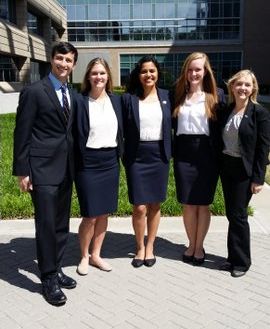 In their senior year, all students in the Bachelor of Science in Public Policy program enroll in a fall/spring capstone project sequence. In Policy Task Force, they apply the knowledge and skills from their core and elective courses, internships, and other experiences to address a current policy problem faced by a government agency, not-for-profit organization, or business firm. These organizations need real-time and expert analysis.
Under the guidance of two faculty facilitators and occasional client input, and with advice as needed from the public policy faculty and others at Georgia Tech and beyond, the students prepare a detailed analysis of the client's problem; formulate alternative solutions; analyze their benefits, costs, and effectiveness; identify the most useful and practical approach; and prepare a professional written report and team presentation to the client. Projects such as this occasionally are conducted in graduate policy programs. The undergraduate program at Georgia Tech is unique in its approach to preparing students for professional jobs and graduate study with a senior-level project that, in many cases, has an actual impact in the policy arena.
Call for 2023-2024 Projects
Professors Diana Hicks and Travis Whetsell are currently looking for clients with two-semester projects for our 2023-24 students. The class is in-person and all client interaction can be over Zoom. The class cohort will be 30 students, and we are recruiting five projects to be worked on by groups of six students.
Caveats and Requirements
There are a few things potential clients should know.
The project runs from mid-August until late April. The students need all of that time to complete the project and to be able to learn from it.
This is a learning experience for undergraduate students, which means you should expect undergraduate-level work. The instructor is there as a guide, not as a participant in the project. There is a possibility that the students will fail to produce a usable product. We will let the students (individually or as a group) fail if they do not produce adequate work. No one will step in to "save" the project. Thus, we counsel our potential clients not to propose operationally critical work.
Nevertheless, we ask that the proposed project be important enough that you are sufficiently committed to seeing it through and interacting with the students when necessary.
We expect clients to:

Attend sessions with the students at three times: at the beginning of the project, typically in late August/early September so that the students have an opportunity to hear directly from you about the project and to ask clarifying questions; in late November/early December to hear and give feedback on the project design (after this stage clients will not be allowed to change any core elements of the project); and at the beginning of April for the final project roll-out, where the students present results. Any or all of these meetings can be virtual.
Be available via email to the students to answer questions along the way.
Provide any data to be analyzed by mid-December.
Provide feedback to students on formal reports (December and April).
Have a designated point person for the students to contact.
Once the initial conversation occurs with the instructor(s) and the decision is made to move forward, we need from you a one- to two-page project description that provides the following: background on the project, why it is important to the organization, and what questions you need answering. We do not move forward on committing to any clients without this brief proposal. Typically, we will provide feedback on the submission, and will let you know whether we can accept your proposal. Determinations are made based on skillsets of students, the feasibility of the project (generally and within the course constraints), and the clarity of the project goals.
If you are interested in being one of our partners, please contact Diana Hicks (dhicks@gatech.edu) to begin the process. We would expect to have one or two Zoom meetings over a couple of weeks to work through scope conditions. Although we keep the process fairly informal, it is vital to set up appropriate expectations for both partners. There is a small fee for participating organizations.
Recent Projects
City of Albany, Georgia
What programs have policymakers and stakeholders used in midsize U.S. cities to redevelop following natural disasters and disinvestment, and how can their strategies inform CEDR's goals in Albany, Georgia?
Fulton County Technology and Energy Enhancement Authority (FTEEA)
What innovative organizational structures and program attributes have other community-focused entities implemented to improve energy sustainability equitably?
Georgia Audubon
What factors contribute to the successful passage of an invasive species ban, and how can the policy processes for invasive species bans in other states serve as a model to pass an invasive plant ban in Georgia?
Georgia Native Plant Society
What steps have policymakers and stakeholders taken in other municipalities to pass pro-native plant legislation, and how can their strategies and actions inform the Georgia Native Plant Society's advocacy goals?
PAWS Atlanta
What are the best practices used by successful no-kill animal shelters in around Atlanta for preventing long-term guests and mitigating their costs, and how can this information improve how PAWS Atlanta operates?
Atlanta Emerging Markets Inc.
"We had an amazing experience with the Georgia Tech Public Policy Task Force! The students were so impressive, not only with their subject matter expertise, but with the passion and enthusiasm they displayed when tackling our project. They clearly heard our pain points and delivered a professional-level report with concrete and realistic recommendations that we look forward to implementing in the future." — Atlanta Emerging Markets Inc.
Innovative programming ideas for Atlanta Emerging Markets, Inc. to support non-profits, social entrepreneurs, and high-impact businesses in Atlanta's underserved neighborhoods

What business and community development needs are unmet in low-income areas of Atlanta?

Interviews with small socially oriented businesses and non-profits in low income areas of the city

What best practices in the successful financing of nonprofits, social entrepreneurs, and high-impact businesses result in positive economic development outcomes in underserved neighborhoods?

Case study comparison of 8 programs around the country
Georgia Audubon
Bird safe building policy in Atlanta

What steps have policy entrepreneurs taken in other municipalities to pass bird-safe legislation, and how can their strategies inform Georgia Audubon's advocacy process?

Case study comparison of the process of passing bird safe building laws in 6 municipalities across the country
Piedmont Park Conservancy
What would it take to develop and gain support for a policy that would provide a sustainable funding model to support not only Piedmont Park, but all other public parks in the City of Atlanta?

Overview of park funding options, concluding no new options out there
What is the additional monetary value added to residential properties in the Midtown area of Atlanta, Georgia, due to proximity to Piedmont Park?

Hedonic pricing analysis of residential property in neighborhoods around Piedmont Park.
Structured, literature based comparison of 29 youth programs around the world
Piedmont Park Conservancy
How can a public park of almost 200 acres address increasing e-scooter traffic? What are the best practices and recommendations that are most appropriate for Piedmont Park, given the fact that the Beltline comes through the Park?

How have comparable organizations regulated e-scooters, and why were policies chosen over their alternatives?

Interview based case studies of Georgia Tech and the Beltline

What policies do Piedmont Park users, including e-scooter riders, cyclists, and pedestrians, prefer?

Interviews/survey of park users
Invest Atlanta
How can one attract out-of-area scale-up companies to choose Atlanta?

Structured comparison of tools used by thirteen economic development authorities in the United States

Case study based on documents and interviews

Needs assessment of local technology firms.

Qualtrics survey of start-ups and scale-ups in Atlanta and interviews with a selection of our survey respondents.
Northwest Georgia High Demand Career Initiative
As part of the HDCI grant, the region is working to launch a high demand career pathway website portal for students, educators, and employers in the region. Have sites like this helped students navigate the pipeline to reach a high demand career in their field of interest?

How effective are career websites in overcoming information asymmetries and matching employers and employees?

Case study of seven websites. Websites features were compared and their managers interviewed.
Atlanta Mayor's Office of Resilience
How can Atlanta be a model for supporting and sustaining farmers' markets and farm stands Citywide?
How can the City of Atlanta develop a model policy to ensure the controlled environment agriculture industry is successful in the City?