The Georgia Tech Mock Trial Team is a collection of Georgia Tech undergraduate students who come together to study and develop the skills of critical thinking, public speaking and rhetoric thorough the mechanism of the American judicial system.  Along with the internal leadership positions available to its members, the program provides undergraduate students at Georgia Tech an unmatched opportunity to interact with the legal community and fellow undergraduates in a competitive academic setting.  Perhaps most importantly, the students learn about the responsibilities and professionalism demanded of them regardless of the field that they choose to enter after their studies at Georgia Tech.  Through this program, Georgia Tech students have learned firsthand about the work of trial attorneys, studied the judicial system, developed critical thinking, and enhanced communication skills.  Our primary agenda in developing these young minds is that professionalism and fair play embodies the foundation on which to grow from, regardless of their intended career paths. 
Brief Summary of the Format of a "Mock Trial" and a "Mock Trial Tournament"
A "mock trial" is a simulated trial between teams of six to ten students from two different universities.  Each year, the case problem alternates between a criminal and civil case to give the students variety of topics during their college careers.  During a trial, three students will play the roles of attorneys for a team and three students will play the roles of witnesses for a team.  Each attorney must conduct a direct examination and a cross-examination.  Each witness plays a specified role and is questioned by an attorney from their team on direct examination and by an attorney on the opposing team on cross-examination.  One attorney on each team will give an opening statement for their side and another attorney on each team will give a closing argument for their side.  A typical trial can last anywhere from two to three hours.
Students present their cases to judging panels.  The judging panels are made up of two or three individuals who are practicing attorneys, judges, or law students.  Unlike law school competitions, the judges score every aspect of the trial on a scale of one to ten, including the performance of witnesses.  A team wins or loses a trial based on the scores from the judges.
A "mock trial tournament" is a weekend-long event hosted by an undergraduate school, where teams compete in four "mock trials" against other teams.  A tournament can have anywhere from 20 teams to 70 teams in attendance.  Usually, a tournament requires students to compete in one trial on Friday, two trials on Saturday, and one trial on Sunday.  After the fourth trial on Sunday, a closing ceremony is held where teams are presented with awards, including Top Teams, Outstanding Attorney Awards, and Outstanding Witness Awards.
Biographical Information and Current State of Georgia Tech Mock Trial
Many people think that only students interested in becoming lawyers participate in mock trial, and while that is true to some extent, our team is made up of mock trial enthusiasts studying in nearly every major.  Of the near 30 students active in our organization, for every member that is law school bound, there are just as many aspiring doctors, politicians, engineers, researchers, and educators.
Each member of the team is expected to attend practice two times a week for approximately two hours per practice.  While academics always take priority over practice and tournaments, we are very fortunate to have an extremely dedicated group of students who arrive early to practice every day excited to work with their team.  At practice, the coaches have an opportunity to oversee the students as they work on their case, and make any corrections, if necessary.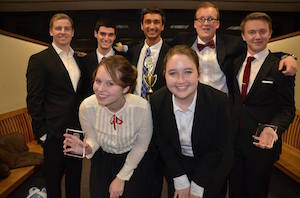 Here at Georgia Tech, we are exceptionally selective of which tournaments we attend, and we are fortunate to do so due to the plentiful invitations we receive each year.  Several factors go into selecting which tournament to attend. Our program tends to stay close to the Institute to avoid the cost of airfare or other large expenses.  Since we are in Atlanta, we are lucky to have a few tournaments hosted in or near the city, which helps to reduce costs.  Other factors considered include, but are not limited to, the avoidance of missing any classes, the strength in the opposition or field in the tournament, our relationship with the host team, and availability of our student participants.  While our program goes to several invitational tournaments, each individual student typically only goes to one – maybe two tournaments each semester based on their availability and individual team placement.
Within the Mock Trial community, Georgia Tech has proudly raised its banner and is warmly welcomed and recognized to be a rising force among the top programs in the nation.  We are recognized as a champion for being professional and civil in competition, which include the following accomplishments:
Winning the Spirit of American Mock Trial Association Award at the Greenville Opening Round Championship Series Tournament in 2015
Placing 5th in the nation at the American Mock Trial Association 32nd National Championship Tournament, which was hosted by Furman University in April 2016
Placing 4th in the nation at the American Mock Trial Association 33rd National Championship Tournament, hosted by University of California in April 2017.