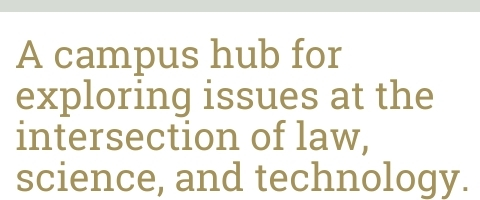 The Law, Science, and Technology Program at Georgia Tech serves as a campus hub for the exploration of issues at the intersection of law, science, and technology. We strive to connect students and faculty from various disciplines with attorneys, alumni, and other experts who share an interest in how law affects, and is affected by, science and technology. We offer pre-law resources and advising for students interested in attending law school, courses taught by practicing attorneys who are experts in their field, minor and certificate programs, and workshops for students, faculty, alumni, and others. Please explore the rest of our website for more information on these and other aspects of our program.
Students looking for Pre-Law Advising, please see the Pre-Law Advising section below for instructions on scheduling an appointment. Other questions? Please contact the Director of the Law, Science, and Technology Program, Chad Slieper.
Van Aacken Fund 2022-2023 Student Awards
Current Georgia Tech students are invited to apply as outlined below. Priority is given to third and fourth year
students, and we anticipate selecting at least two students to receive $500 awards in the academic year 2022-2023.
Award funds may be used by selected students to cover application fees, LSAT/LCAC fees, LSAT prep costs, costs associated with campus visits, and other costs connected to the law school admissions process. 
Applications are due by 5pm on November 23rd.
 
Personal Statement Workshop with Harvard Law School
Join the Law, Science, and Technology program for a personal statement workshop with Harvard Law School J.D. Admissions on Thursday, October 27th from 11:00am to 12:00pm. The workshop will be located in the Bill Moore Student Success Center in President's Suite C.
Frequently Asked Questions
Have a question about the LST program, prelaw advising, or law school? Take a look at our FAQs below: