News and Events
Congratulations to Georgia Tech's Mock Trial Team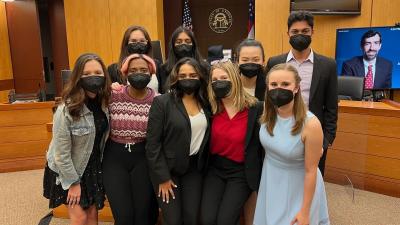 A huge congratulations to Georgia Tech Mock Trial on two fronts: Team B (pictured) is advancing to the National Championships, and the entire team successfully served as the host school for the regional tournament this past weekend at the Fulton County Courthouse - a huge logistical feat, especially in the midst of COVID. Congratulations, GT Mock Trial! We're very proud of you!
Confirming a Supreme Court Justice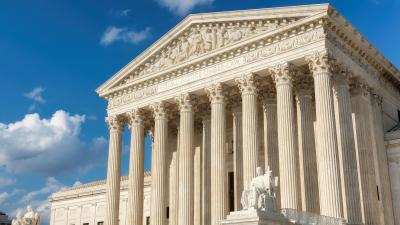 Do you have questions about what comes next for Judge Ketanji Brown Jackson after her nomination to become the next U.S. Supreme Court Associate Justice? Learn more in this article as Professor Chad Slieper discusses what the confirmation process looks like for Supreme Court nominees.
Students Receive Inaugural Van Aacken Awards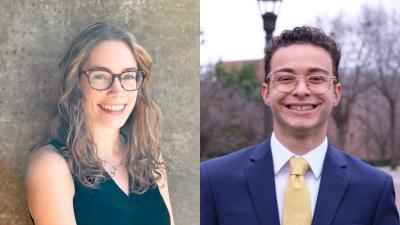 This fall, the Law, Science, and Technology Program announced a new award program for Georgia Tech pre-law students across Colleges and Majors. Funded by an endowment in memory of Georgia Tech alum Troy Van Aacken, the awards help students offset the cost of applying to law school. Congratulations to this year's inaugural recipients of the Van Aacken Awards, Samuel Ellis (INTA) and Zoe Elledge (LMC)!  A big thank you to the selection committee for giving their time and energy to evaluating the applications for the award, and to alum Susan Van Aacken for her support of these awards.
Van Aacken Fund 2021 Student Awards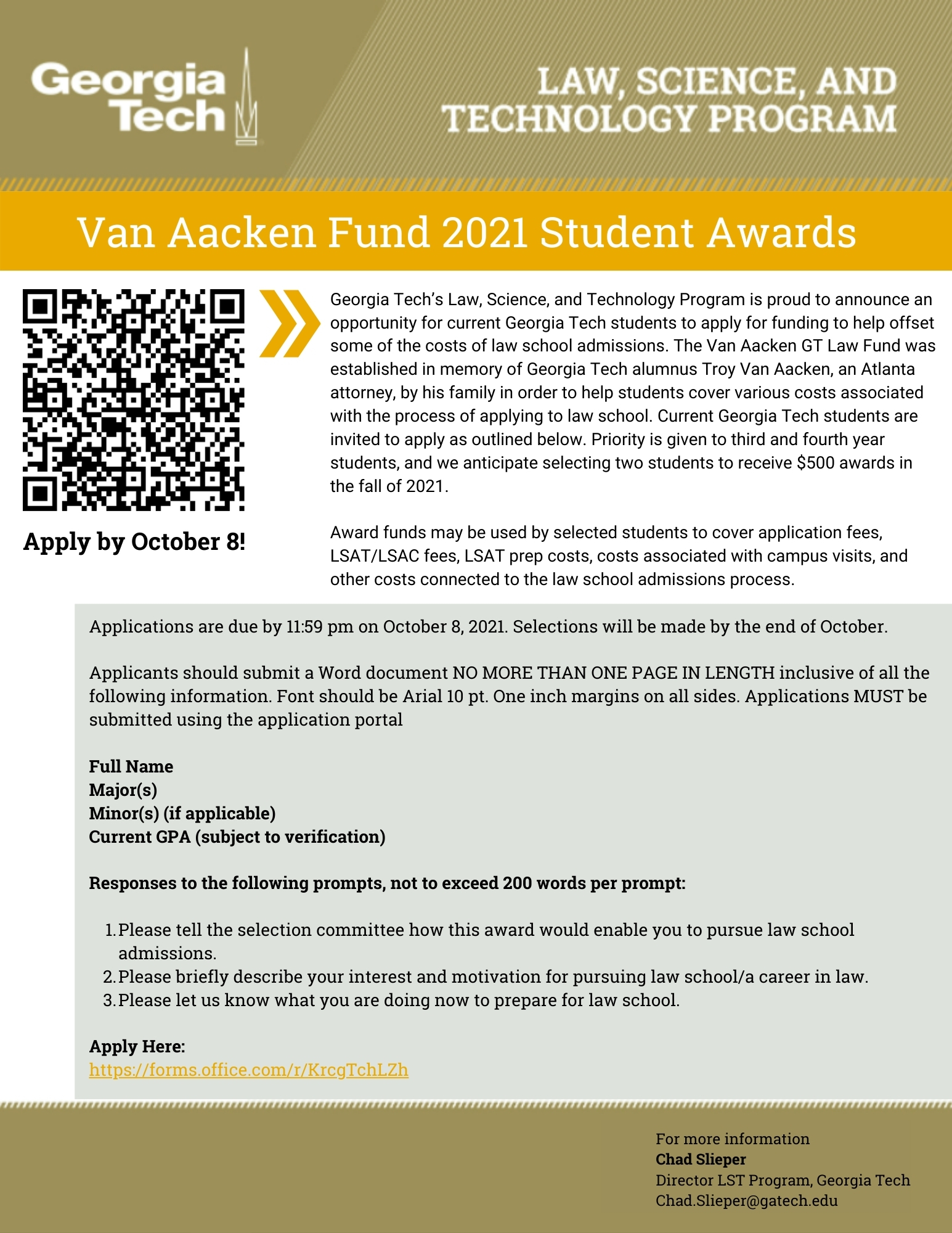 Current Georgia Tech students are invited to apply to receive a Van Aaacken Fund Student Award as outlined below. Priority is given to third and fourth year students, and we anticipate selecting two students to receive $500 awards in the fall of 2021. Award funds may be used by selected students to cover application fees, LSAT/LSAC fees, LSAT prep costs, costs associated with campus visits, and other costs connected to the law school admissions process.
Applications are due by 11:59 pm on October 8, 2021. Selections will be made by the end of October.
GSU Law Info Session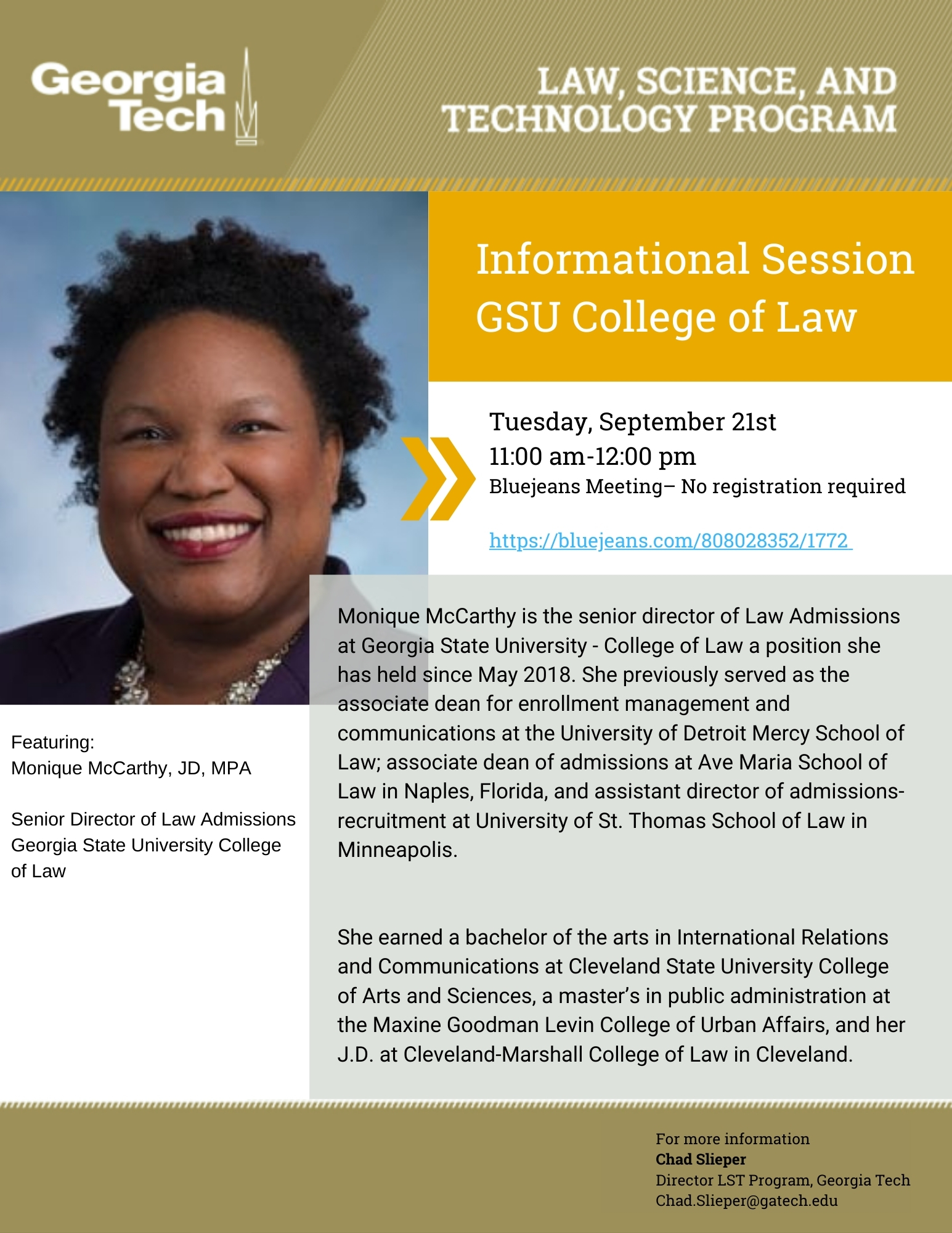 Join Monique McCarthy, Senior Director of Law Admissions at Georgia State University College of Law, for a virtual informational session.
Tuesday 9/21, 11am-12pm, GSU Law Info. Session
Bluejeans Meeting – No registration required
Law Firms and Beyond Panel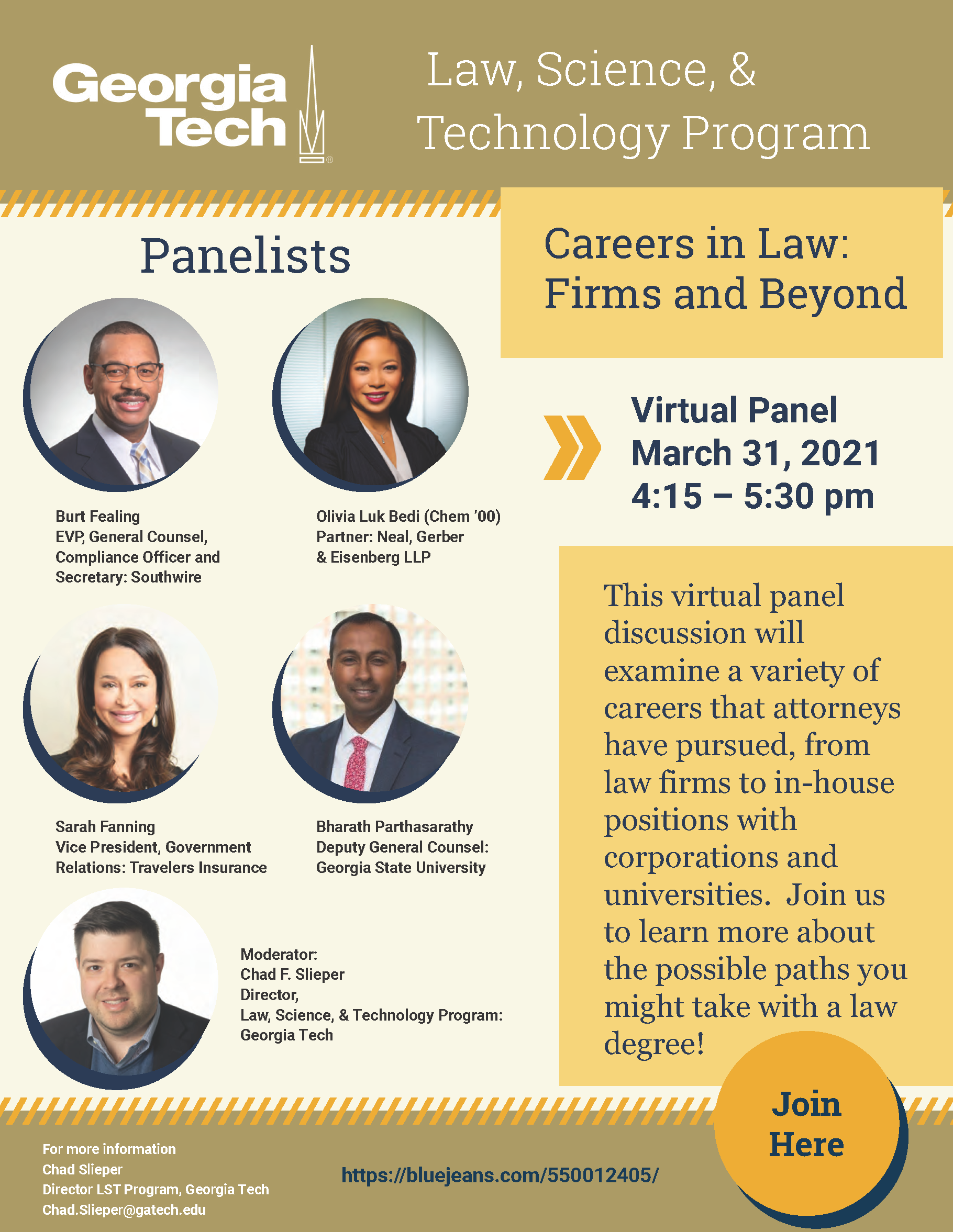 The Careers in Law: Firms and Beyond virtual panel on March 31st, 2021 examines a variety of careers that attorneys have pursued, discussing what paths students may explore.
A Hub for Law, Science, and Technology in the School of Public Policy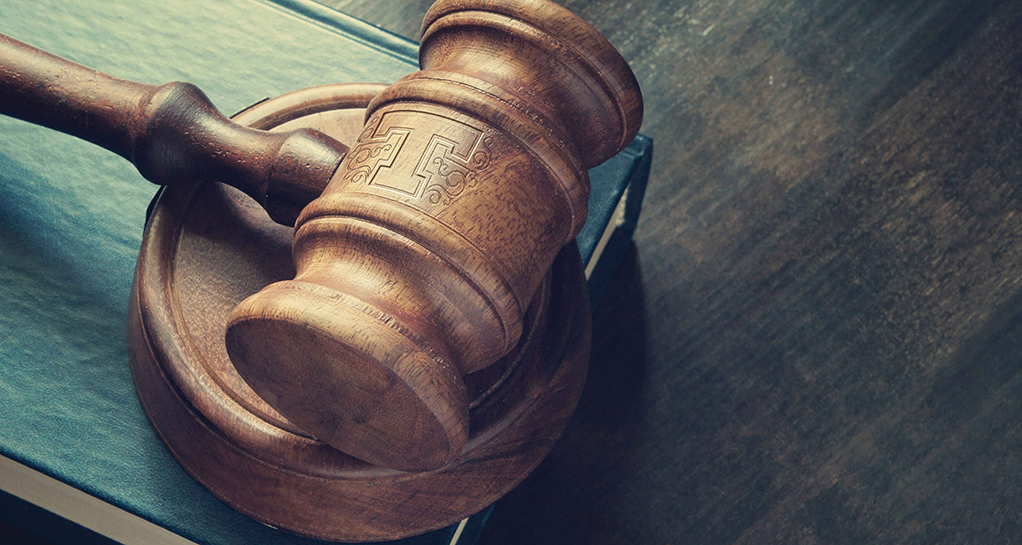 The Law, Science, and Technology Program here at Georgia Tech was recently profiled in the Georgia Tech Alumni Magazine. Read the full article at the link below.
LST Student Receives President's Undergraduate Research Award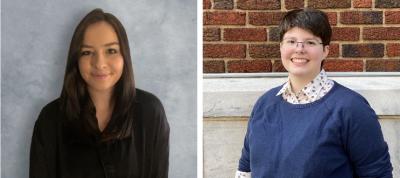 Congratulations to Emma Menardi (above right), an LST student who received a President's Undergraduate Research Award (PURA) to work with Prof. Slieper to further develop the research she began in his Law, Medicine, and Ethics course! Emma and Prof. Slieper will be using various bioethical tools to examine and critique various HIV policies, and the role stigma plays in affecting those policies.
Preparing Now for a Career in Law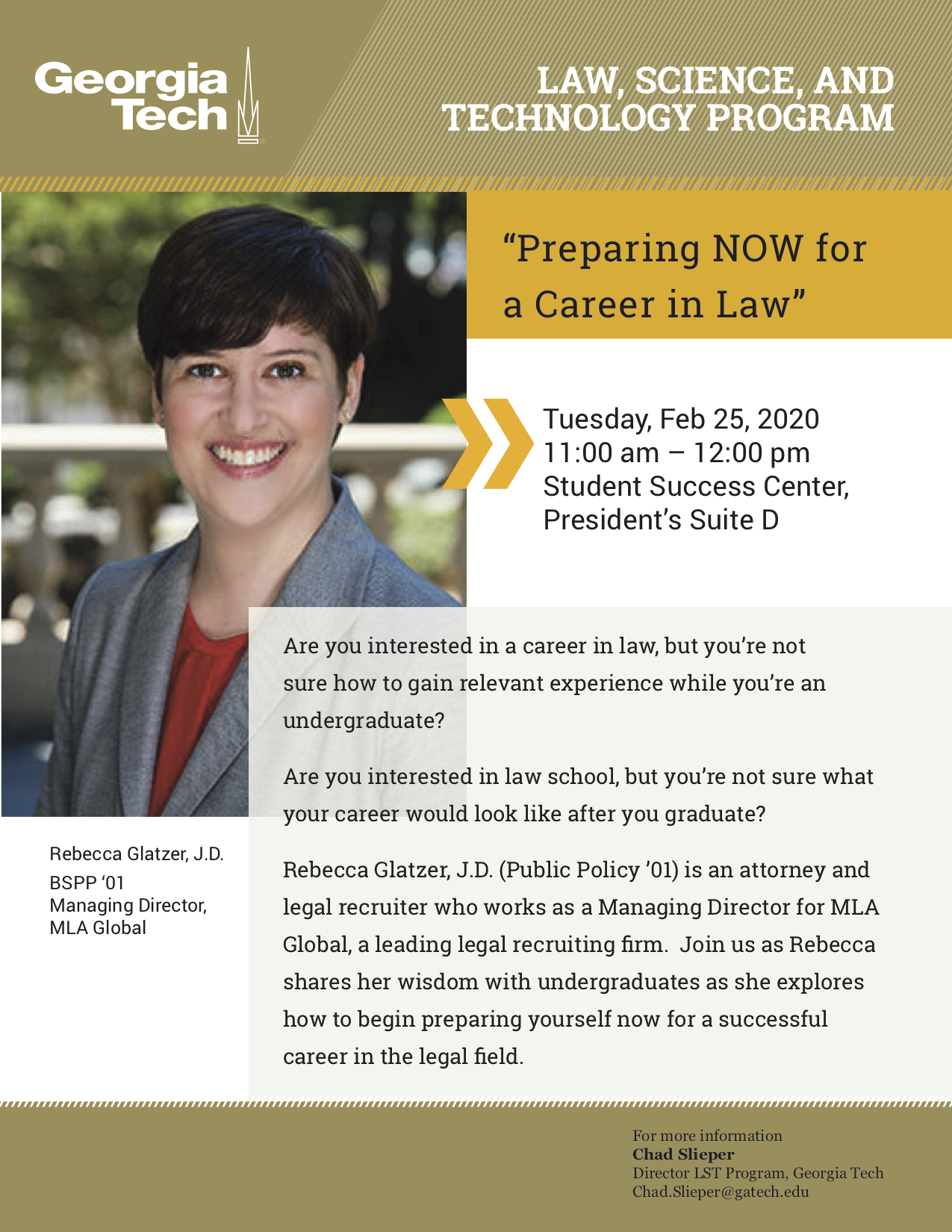 The Law, Science, and Technology Program welcomes Georgia Tech Public Policy alumna Rebecca Glatzer, attorney and legal recruiter, to campus on February 25th, 2020 to discuss preparing for a career in law while an undergraduate student.
Samford Law Visits Georgia Tech

Join Samford Law Admissions Officer Nancy Battles in DM Smith Room 108, on Tuesday, January 28, 2020 from 11am-12pm for a presentation on the Law School Application Process. This presentation will not be specific to Samford Law, but would be useful to any of you thinking of applying to law school in the future. Pizza will be served. Hope to see you there!
Harvard Law Visits Georgia Tech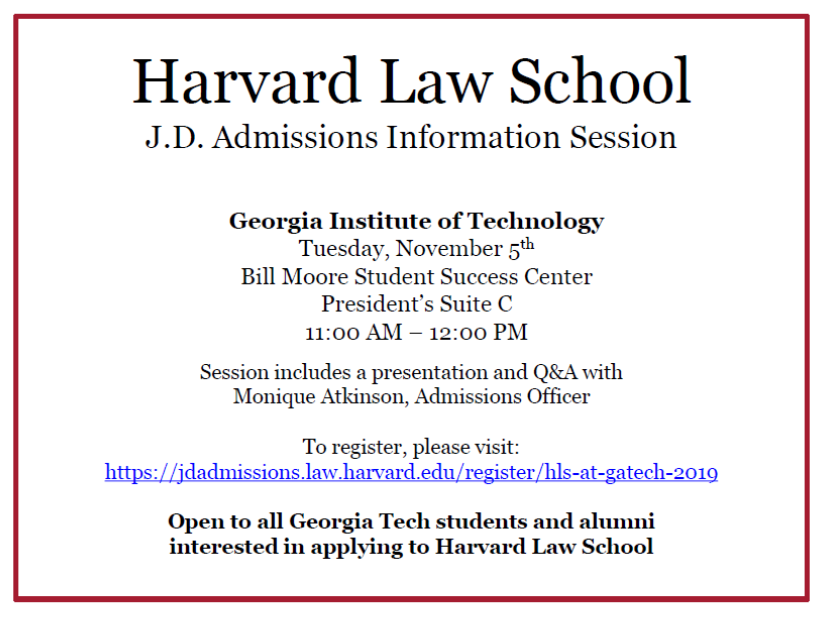 The Law, Science, and Technology Program welcomes Harvard Admissions Officer Monique Atkinson on November 5th, 2019 for a presentation and Q&A.
Coffee with an Admissions Counselor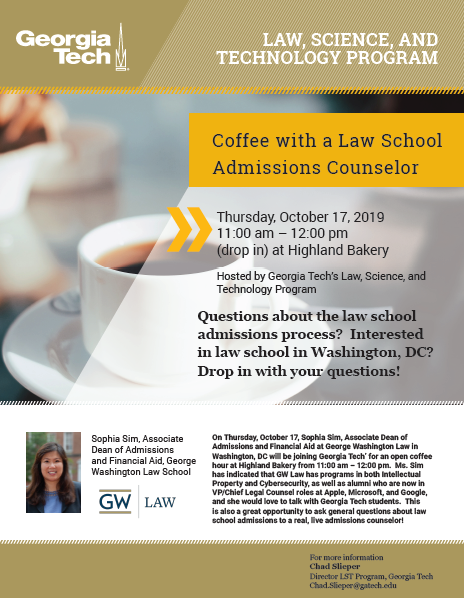 On October 17, 2019, Sophia Sim, Associate Dean of Admissions and Financial Aid at George Washington Law School, joins us for an open coffee hour at Highland Bakery to answer questions about the admissions process, discuss George Washington Law School's program, and more.
Georgia Tech's Mock Trial Team: One of the Nation's Best
The Georgia Tech Mock Trial Team ranks among the nation's best in its 2018-19 season, its team members drawing upon diverse academic backgrounds to succeed in national Mock Trial competition. Students work alongside two LST faculty coaches to build a strong argument with the year's case, which they then argue in competition with other collegiate Mock Trial teams. 
Tech Students Explore the World of Law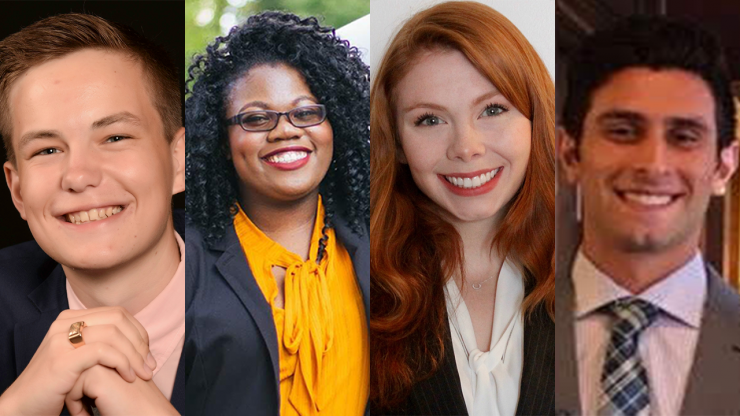 Georgia Tech students pursue interests in law during the summer semester. These students participated in opportunities ranging from internships in patent and intellectual property law to internships in the nonprofit sector to working as a paralegal assistant. Learn more at the link below.